I had the pleasure of going to a pop-up dinner hosted by Alex McCoy, the former Food Network Star competitor opening up the new Alfie's restaurant at 845 Upshur St NW. It gave me the opportunity to taste some of the dishes we should expect to see when Alfie's opens.
When's the opening? According to Alex, they're going to delay the opening until later in the Spring of 2016 and use that time to get the back patio done as well as the full restoration of the interior. This means they'll be able to seat more people inside and out, and have the outside area ready for seating.
Meanwhile, they just signed a lease to temporarily take over the former Mothership restaurant (3301 Georgia Avenue NW) and open a pop-up restaurant in the space. Alex said they plan on opening Alfie's temporary home at Mothership in December while they work on the permanent space on Upshur St.
The pop-up dinner was held at a private residence in NW DC that was set-up as a small restaurant. Alex's brother Nathaniel was there to help cook, as was Alex's girlfriend Isti and a few other helpers. (Alfie's co-owner Hunter Campbell and his wife Erica were also greeting guests at the dinner.) We sat next to the kitchen and got to watch the controlled chaos that a chef orchestrates.
For someone like me who hasn't ever really eaten Thai food and is an admitted "new food coward," this was a great experience. I knew I'd try everything put in front of me from the tasting menu and trusted that I would enjoy it. I was right.
Check out a PDF of the menu from the pop-up tasting dinner.
I can't pronounce all the dishes he put in front of us, but I can say that Alex's food is legit amazing. The Kai Jaew Muu Sab (minced pork omelet, sticky rice and sauce prik on the side) was one of my favorites.
Alex looked over from the kitchen and busted me making that "oh my this is so delicious" face as I tried my first bite of the egg, rice and sauce, and gave me a big smile. "It's good, right? You like it?" I just gave him a thumbs up and kept eating. No shame on my part.
There were many other great dishes and treats. The boiled veggies (including cucumber, acorn squash and some citrus-y flavored herbs) with Nam Prik (green chili) sauce and pork rinds was kickin'. We easily cleaned the plate.
Oh... I ate a giant anchovy. When the plate came down in front of us I felt hesitant, but hey, gotta try everything, right? We pulled the herb-wrapped skewer from the fish and divvied it up. The fish was flaky and firm and the sauce was delicious. I would definitely order this.
Me, who looks askance at anything fishy, now apparently likes Thai anchovies (I still won't get them on a pizza though).
And that was only the first tasting course.
Alas, my wife and I had to leave early as a certain cute four year old was calling us home. I made Alex promise to invite me to his next pop-up dinner, and I'll definitely be at the Mothership location in December.
I think Alfie's is going to be a great addition to the Petworth cuisine scene.
Here's a small gallery of pics: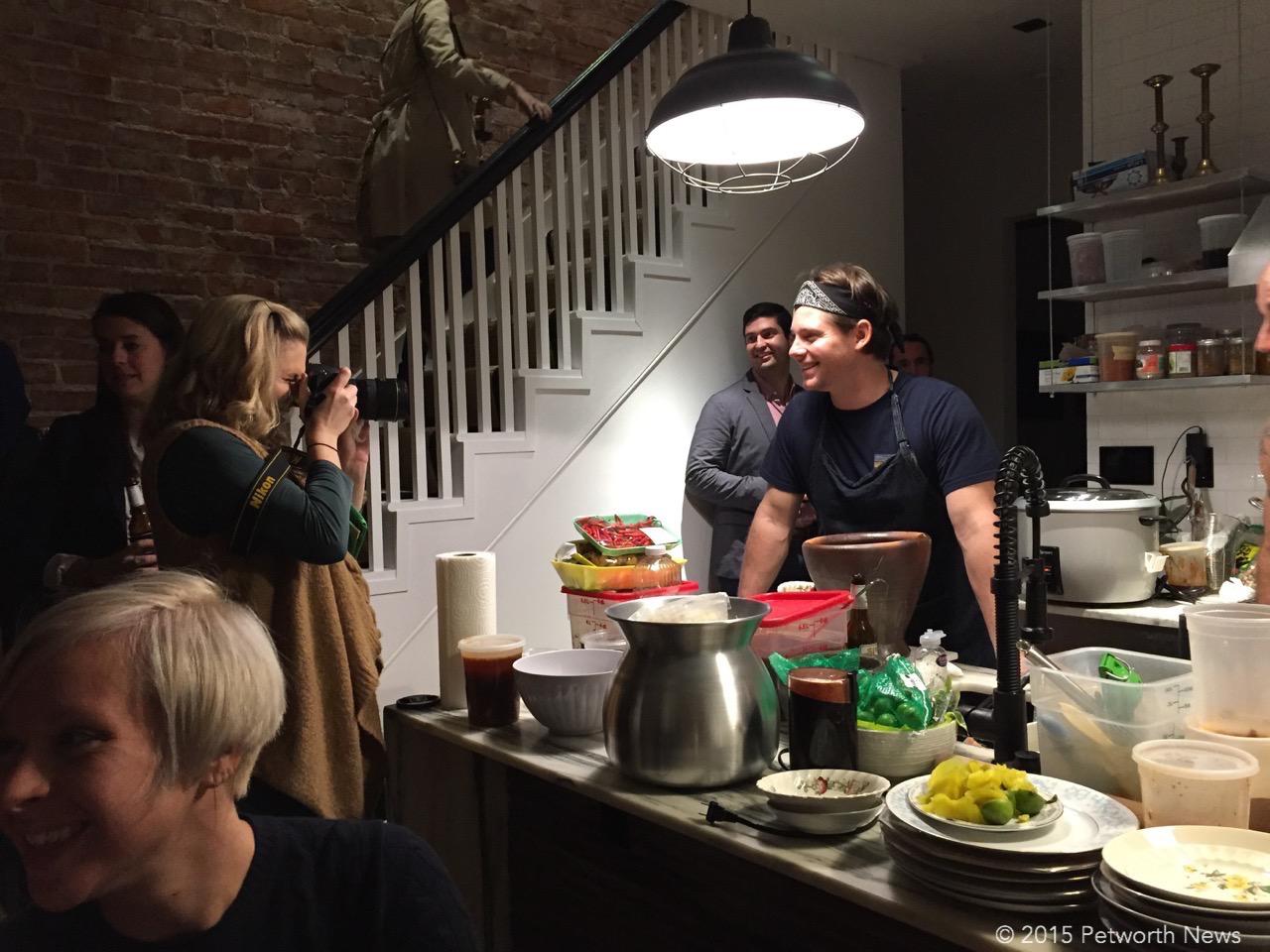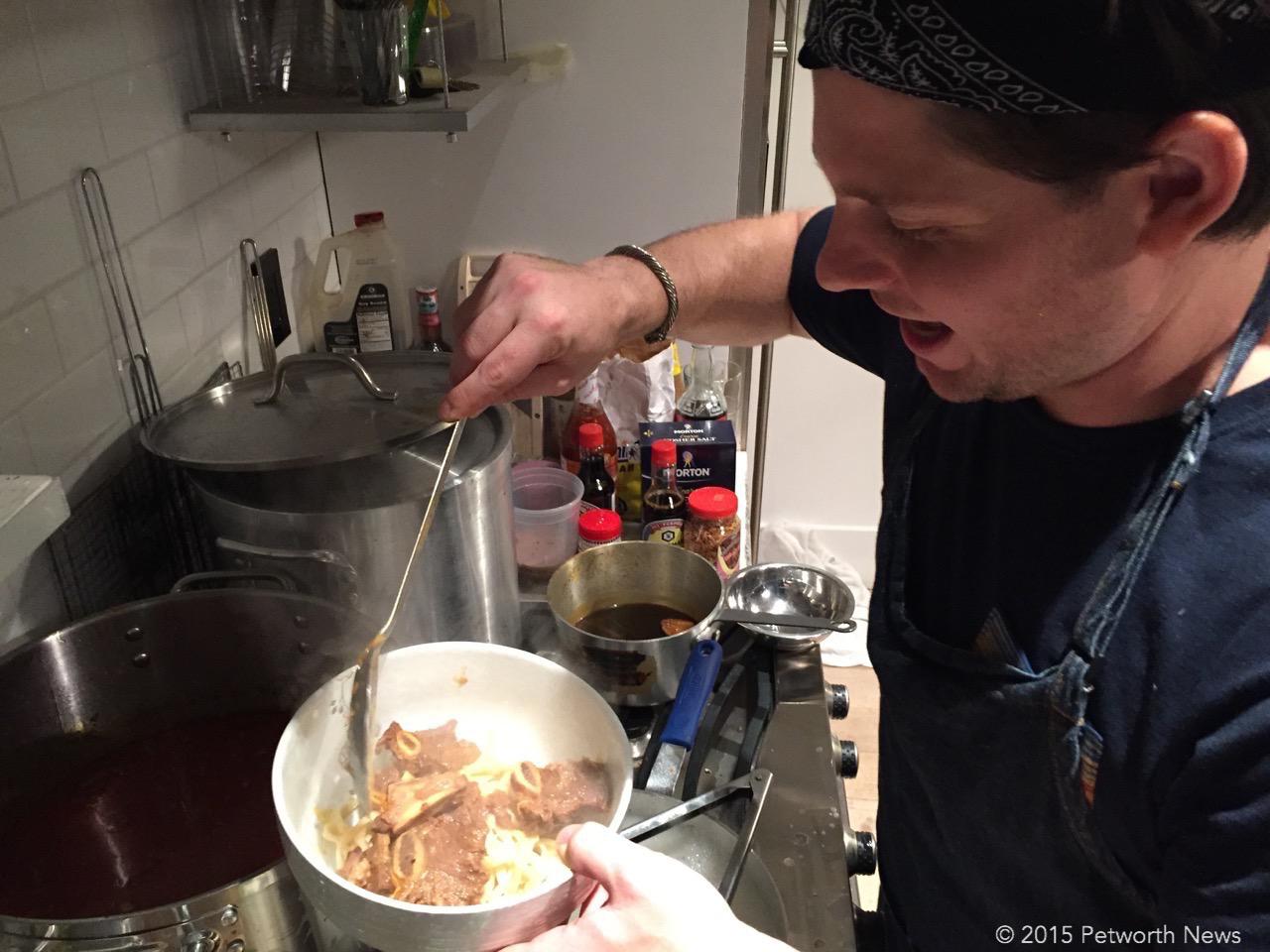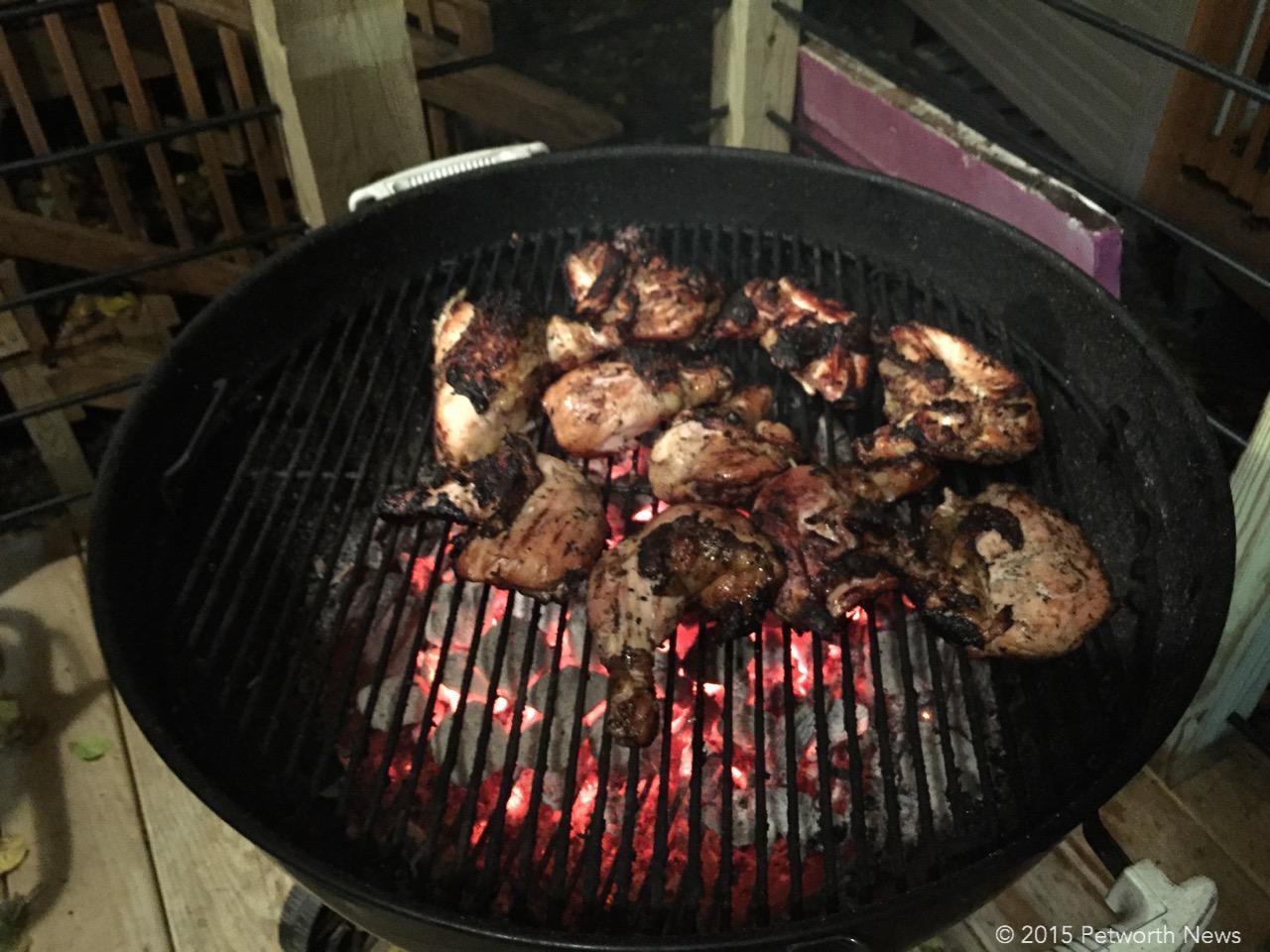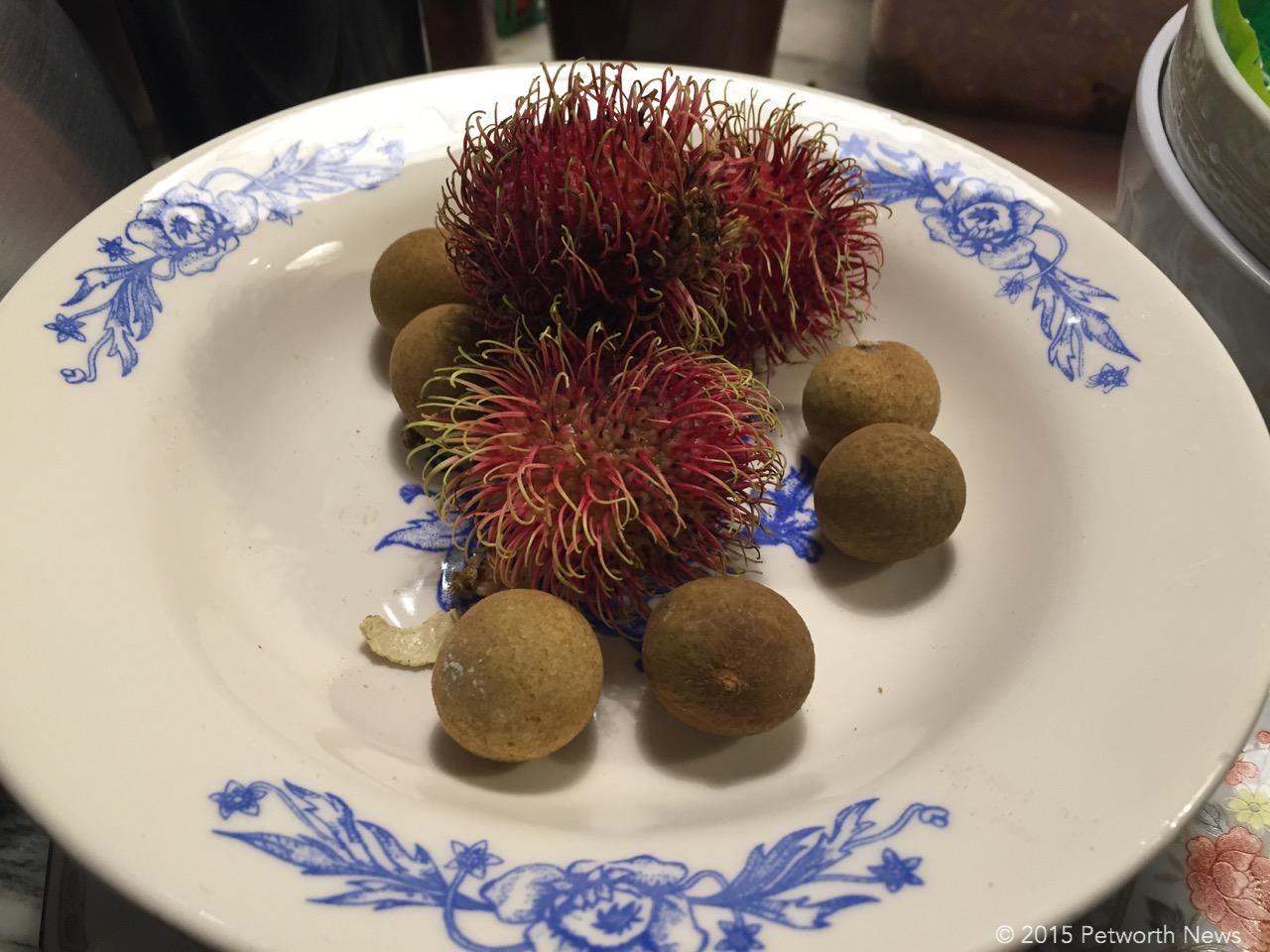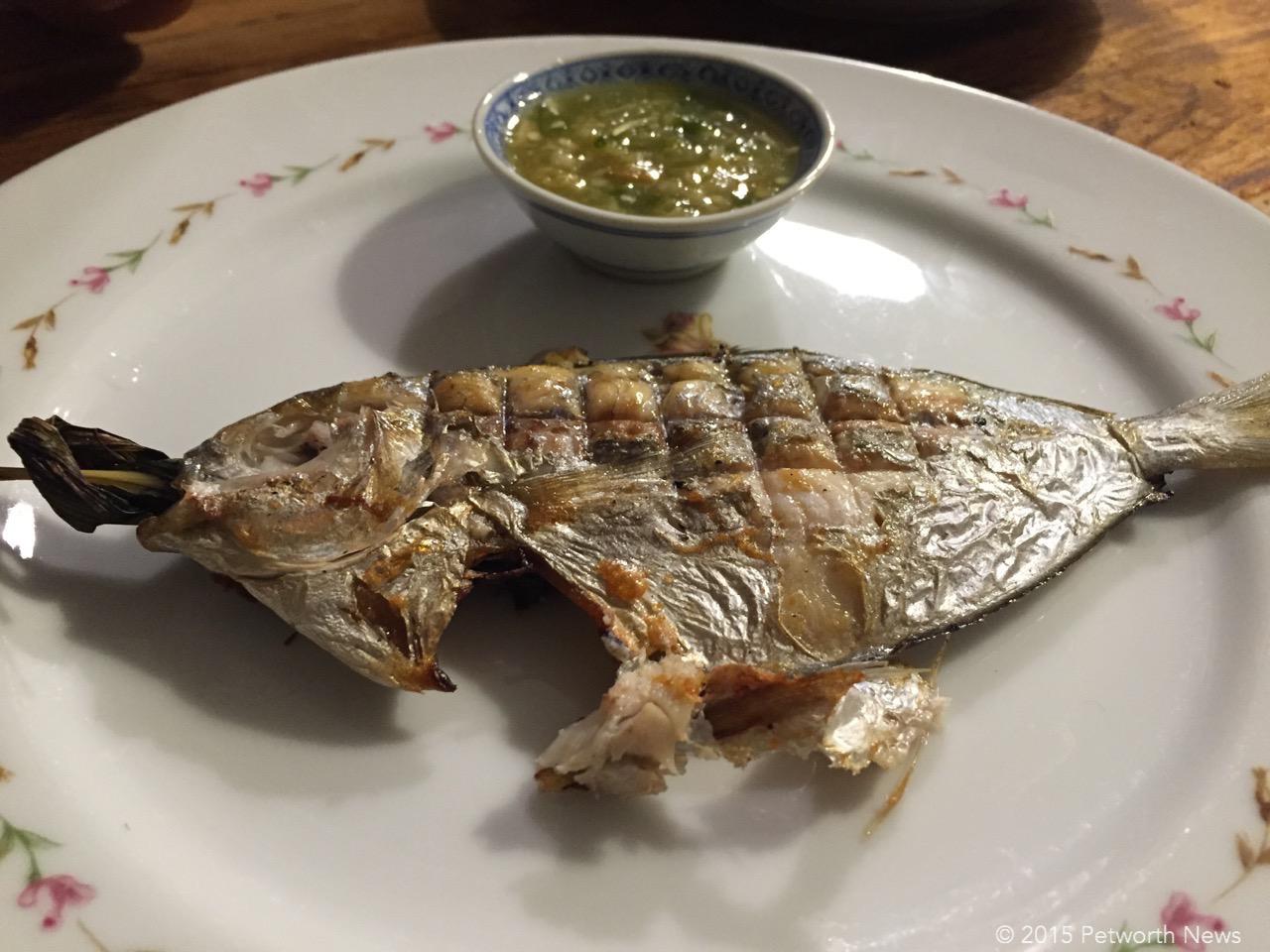 Thanks again to Alex and his team for the great food, and thanks to Bryan and Angela for coming with us!